Autism Turnaround & Prevention Do's and Dont's
I am so excited to share this NEW podcast episode with Dr. Barendse answering ALL the questions I've had from you in 2021 AND her take on autism prevention and recovery in 2021.
The podcast episode is for both new autism parents and experienced warrior moms who've tried almost everything but are still struggling with the child's speech, behaviour, sleep, physical symptoms, picky eating, mood, sleep, etc.
Here's all the exciting information you're gonna get:
? How to address and prevent autism symptoms in 2021 (what's new and what's still misunderstood (and therefore preventing a turnaround.)
? Why you MUST understand the link between autism and dementia and what the brain and the immune system have to do with it.
? How to support brain maturation and healthy child development for children with autism.
? How to nail and address the things that are currently keeping your autistic child from thriving.
? How to understand and address nonverbal autism.
? The tricky truth about homeopathy and essential oils for autism.
? The missing links and ways to help children with Pans, Pandas, Lyme, mould, and other devastating issues (and why antibiotics aren't always the only way forward.)
? The truth about oxidative stress and methylation and why your child is (most likely) affected.
? The MTHFR myth and the reason why tests aren't that amazing.
? Why nutrient OVERLOAD is as big a problem as nutrient deficiency and the problem with methylfolate, green juice, and the serious consequence of blocked receptors.
? The statistics: recovery hope and windows of opportunity.
? Excitotoxins. What are they and why must you cut them out of the diet.
? The truth about gluten, dairy, and fortified food.
? Picky eating.
Listen to the podcast episode HERE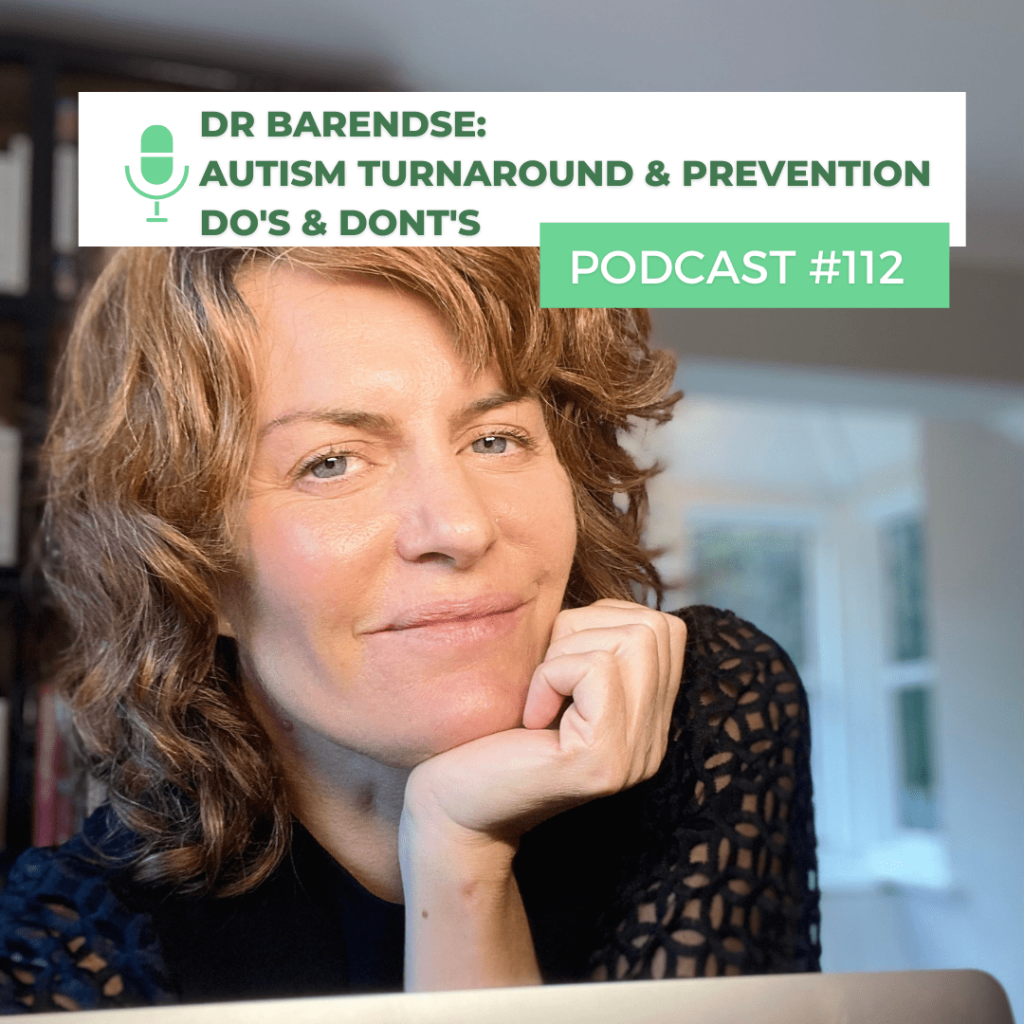 Watch the Youtube version HERE
Dr. Albert Mensah: Methylation & MTHFR myths, autism recovery, vegan disasters, depression and suicide prevention.
This podcast episode was shocking and heartbreaking to me.
Dr. Albert Mensah sat down to talk because of a tragic suicide in the community and because parents of autistic children still don't know enough about:
?How wrong the diagnosis tools used today are and how wrong the idea: "there's nothing you can do" is. And how the mainstream autism community supports this.
?How amazing the recovery rates are when you stop going to one-size-fits-all practitioners, diets, protocols, and outdated autism treatments. Even the most popular ones.
?How common methylation issues, copper overload, and pyrrole disorder is in autism families. (90 – 100 % prevalent.)
?How methylation issues, food sensitivities, copper toxicity, and pyrrole disorder is linked to autism symptoms, depression, suicide, aggression, violent behaviour, infertility, hysterectomy, cancer, self-harming behaviour, bipolar/schizophrenia.
?How bad and wrong the MTHFR myth, heavy metal detox, Medical medium, vegan or other extreme diets are for the autism community.
?How understanding bio-individuality can mean the difference between life and death in families with mental health issues.
If you have autism in the family or know or love someone who is struggling with depression, anxiety, mood swings, autism, self-harming tendencies, bipolar, or other mental health issues, you MUST join this integrative mental health summit and hear from the most cutting edge experts who fill the gaps and eliminate the missing links in the outdated approach:
www.integrativementalhealthsummit.org.
Listen to the podcast episode HERE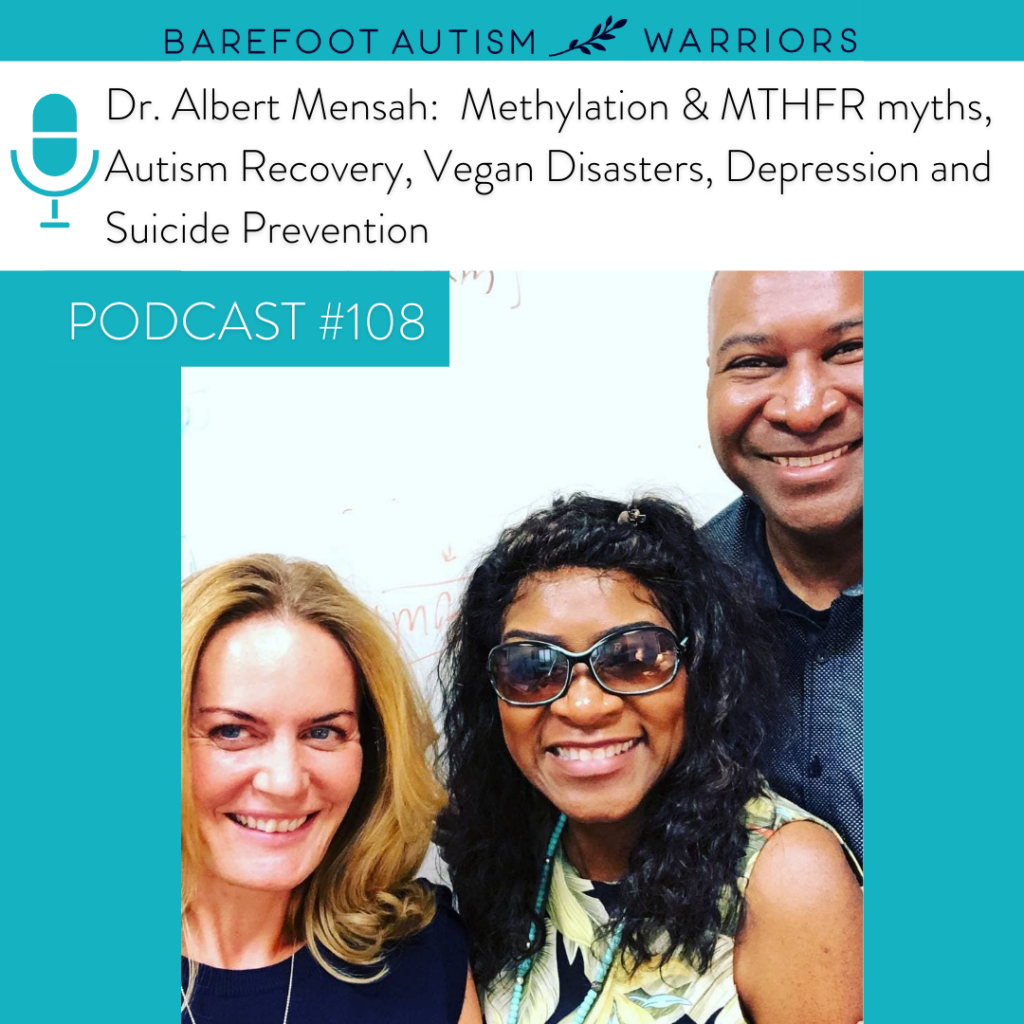 WATCH THE YOUTUBE VIDEO VERSION OF THE PODCAST.
Missed my first interview with Dr. Albert Mensah?
WATCH IT HERE
DR BARENDSE: THE PROBLEM WITH AUTISM DIETS & TESTS
Dr Barendse helped me and my children find the last pieces of the healing puzzle for autism.
You're gonna LOVE today's podcast and handouts. Email me at contact@barefootautismwarriors.com if you want a pdf overview over dangerous autism diets, a glutamate food list and an invitation for my live Zoom call with Dr Barendse.
Why do so many autism mamas struggle to see results from autism diets, tests and protocols? What is the missing links and misunderstandings when it comes to MTHFR, Gaps diet, vegan diets, paleo and keto?
In today's podcast episode she covers:
? VEGAN/VEGETARIAN PROBLEMS
Why vegan and vegetarian diets often is a poor choice for autism families.
Why vegan (including Medical Medium) can cause long term harm and problems with reproductions for our children?
What birth defects and problematic pregnancies/birth defects have to do with it.
? KETO PALEO PROBLEMS
Why some children (and which ones) need more carbs to fix mitochondrial dysfunction than a keto/paleo diet provides.
The problem with fats.
The signs of mitochondrial dysfunction that no one tells you about.
Who can benefit from a keto diet.
? GAPS/FERMENTED FOOD PROBLEMS (EXITATORIES)
Why children with mood swings, anger, agitation and aggression might get worse on some of the most popular autism diets, probiotics and fermented foods.
? BED WETTING, SILLY LAUGHING AND FOOD
What bed wetting, silly laughter and red ears have in common and what foods are related.
Histamine.
Salicylates and behaviour.
? THE MTHFR MYTH
Why gene testing is not a valuable tool (by itself).
Why MTHFR protocols are highly problematic.
What you have to test to get a full picture (that some practitioners miss).
? THE STOP-START METHOD AND PROBLEMATIC SUPPLEMENTS
Why stopping is as important as starting a supplement protocol.
The "tug of war" between deficiency and overload.
How we teach mothers to understand what supplements to be on the lookout for and how to navigate the complicated world of autism, diets, tests and healing.
Join the training course with Dr. Barendse and I
TURN TANTRUMS & REGRESSION AROUND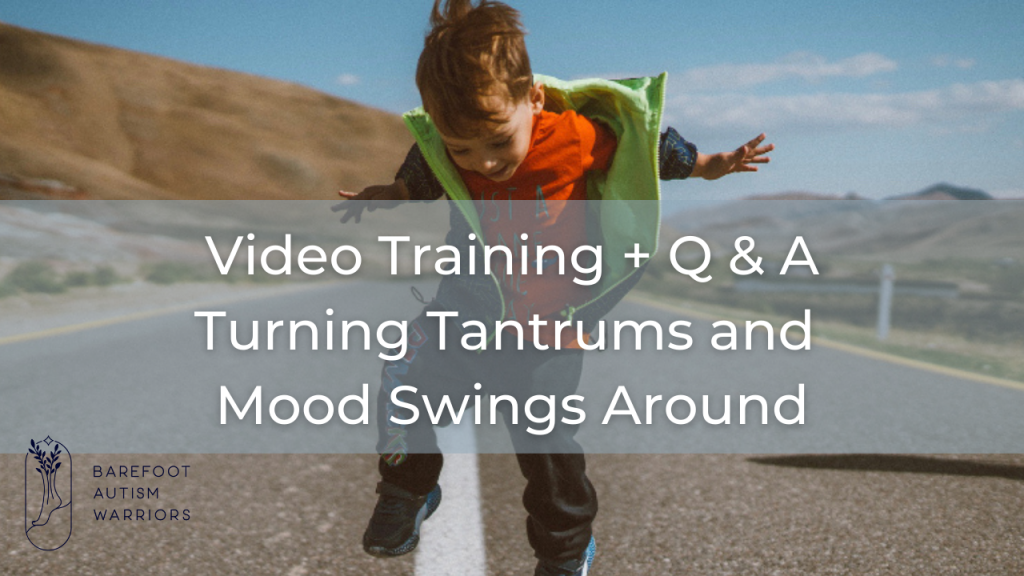 Listen to the podcast episode HERE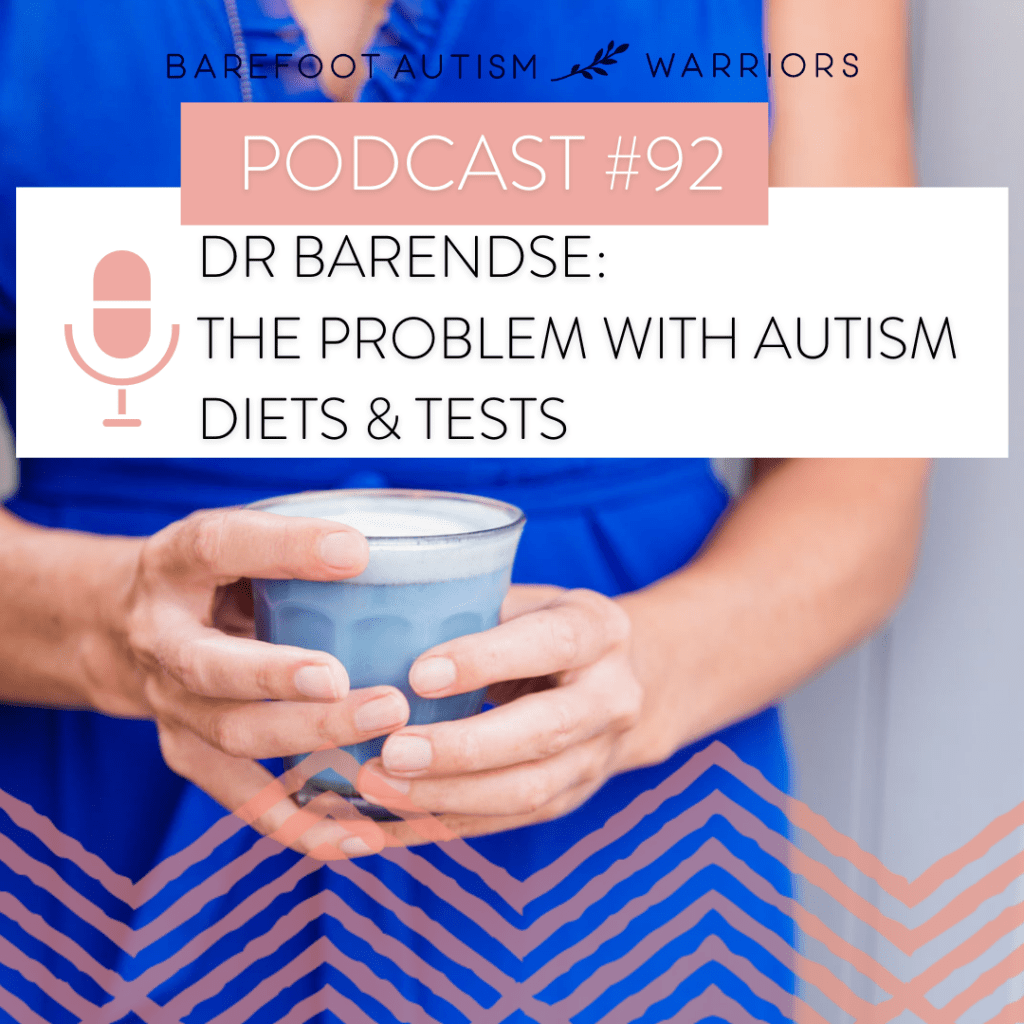 DR BARENDSE, ALL ABOUT NUTRITION
The best European Walsh practitioner and nutrigenomic expert in autism is back on the podcast!
Dr. Barendse is an expert in understanding autism biotypes and the underlying nutritional issues behind the symptoms. That's why I chose her to be my co-teacher for our upcoming Autism Turnaround Nutrition and Lifestyle Academy for mothers.
The tools we used to turn our children around.
The safest detox methods and why we love Epsom salt.
The reason why multivitamins are NO GO and why probiotics can be tricky.
Why you should start eating potatoes again and why your child needs them.
Food intolerance, lifestyle tips and environment.
Picky eating and food strikes.
Good and bad sweeteners.
The importance of not being too strict with the diet.
The problem with high-fat diets and autism.
The best ways to implement a healthy lifestyle in an autism family.
And so much more.
If you loved this podcast and want to be accepted into the Autism Turnaround Academy to learn from my personal family practitioner, here's what to do:
Sign up for the Autism Turnaround Mindset Course (we prioritize students from my Mindset course because they succeed faster and they are willing to change, because they have shifted their mindset from fight or flight to peace and clarity.)
Listen to the podcast episode HERE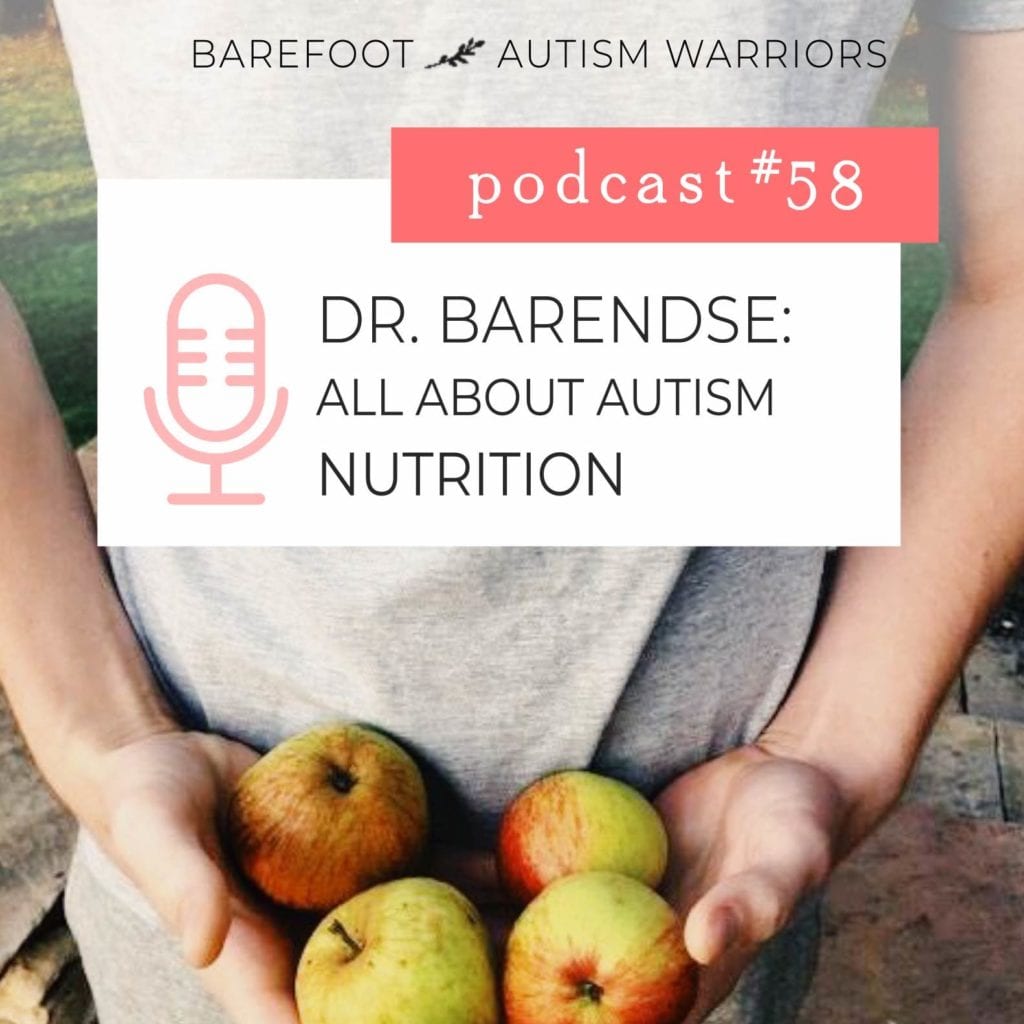 DR. MENSAH ON AUTISM REVERSAL & THE PROBLEM WITH MOST "HEALTHY" DIETS.
Interview with Methylation expert Dr. Albert Mensah.
Why the most popular supplements and diets (including vegan, fish oil, multivitamins, and B vitamins can be dangerous to certain types.
How to reverse autism, anxiety, and depression with nutrient therapy and why "DYI" and 1-day methylation courses is extremely dangerous.
Learn everything you MUST Know to protect yourself from ignorance and dangerous one-size-fits-all solutions.
Mensah was a skeptical MD with neurology as his field of expertise when he met (and started working for) William Walsh/Pfeiffer Institute because he SAW psychiatric/behavioral disorders being healed using nutrient therapy.
Including autism, schizophrenia, bipolar, anxiety, and depression.
He now trains doctors in the US and Australia and is the leading expert in the field. www.mensahmedical.com
Listen to the podcast episode HERE