Before listening to this PODCAST, PLEASE DOWNLOAD THE PDF HANDOUT HERE
.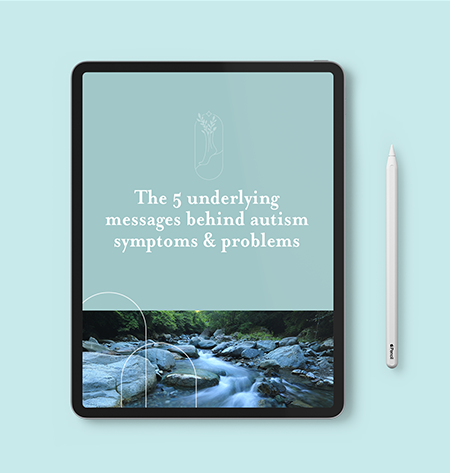 "Why does my child have autism symptoms? What's the cause of stimming, picky eating, sleepless nights, no eye contact or ANY other symptom?
My answer is always this: Autism is never a "one cause – one solution" issue.
Every child is different. The cause and the solution are different from child to child. I am NO fan of symptom-based approaches. You need to find the root cause. But how? That's what this podcast (and guide) is going to teach you.
THE 5 MESSAGES BEHIND AUTISM SYMPTOMS WILL HELP
Because every child is different, we have to investigate the root cause in order to change the symptoms. In my experience, there are 5 main messages behind autism symptoms. When you understand these messages and use them to change your life, THINGS CAN CHANGE DRAMATICALLY. And fast.
I am so excited to share the messages in order of importance in this episode. Let's dive into:
1: The message about your autism awakening process.
2: The message about nature deficiency.
3: The message about your self-sabotage patterns, self-parenting and suppressed emotions.
4: The message about your environment and why we can't heal in the same environment that got us sick.
5: The message about nutritional and bio-individual imbalances, trigger foods and underlying biomedical conditions.
When we deal with the root cause, symptoms tend to top change.
Enjoy the show.
You might also like
Latest Posts